---
Hlavní strana » English Pages » Opening Statement of the…
---
Opening Statement of the President at the Farewell Meeting with the Heads of Diplomatic Missions
English Pages, 21. 2. 2013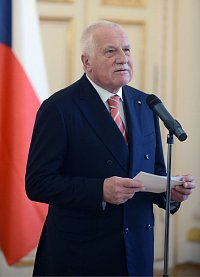 Excellencies, ladies and gentlemen, let me welcome you here most sincerely. Thank you for joining us at this small ceremony at the end of my presidential mandate.
It has been an honor for me to serve as the President of the Czech Republic for the past ten years. I can assure you that my meetings with you and your predecessors belonged to my pleasant duties, and not only duties, I learned a lot as well. It is a memory I will always cherish.
This is not an occasion for another presidential speech here now. You have heard plenty of them from me. This is an occasion to say goodbye to you. My wife and I wanted to get a chance to express our gratitude for what you have been doing in developing the relations between your respective countries and the Czech Republic. I would also like to express my recognition for your work and for your cooperation with me and my office.
In the past ten years I have visited most of the countries you represent. Even I must admit that I did not realize that I have made 278 visits abroad, many of them together with my wife, and that I have received 337 official guests here, from many countries of the world. The Prague Castle has been hosting 36 state visits. I have given priority to the relations with our neighboring countries, with our partners in the North Atlantic Alliance, with our colleagues in the European Union, but I have also been looking quite often beyond the borders of Europe, especially with respect to the Czech economic interests.
Some of you know that I do not plan to get retired. As of March 8, I will have a new job, chairing the Václav Klaus Institute here in Prague which will work as a think-tank. I hope it will be visible and audible abroad as well. This think-tank will formulate and promote public policies based on the principles of free enterprise, limited government and individual freedom. I also plan to continue traveling and hope that I will have more time to be active in the academia and to be able to attend various international meetings and conferences.
Once again, thank you for joining us here this afternoon.
Václav Klaus, Rudolf's Gallery, Prague Castle, 21 February 2013